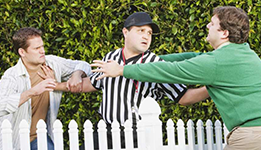 *Unpublished Opinion
The Court of Appeals recently rendered an unpublished opinion in  Harbour Island Condominium Owners Association, Inc. v. Alexander (2019), which provides some clarity regarding a tenant's right to attend board meetings and the ban on noxious activities within the community.
The Harbour Island Condominium Owners Association ("HOA") sought a restraining order (known as a preliminary injunction) against two tenants and their landlord to abate the tenants' noxious behavior.  The HOA relied on the provision in the CC&R's, which stated that residents cannot disturb the neighborhood or occupants of a neighboring property or create a nuisance.
Neighboring residents made several complaints to the HOA about the tenants' excessive and purposeful noise: the tenants consistently stomped on their floors and slammed their doors.  In addition to the noise complaints, tenants permitted their dog to urinate in the Common Area, despite the posted "No Dogs" signs.  Lastly, the tenants engaged in aggressive behavior against the Board of Directors in an apparent attempt to intimidate Board Members.  For example, the tenants secretly photographed a Board Member at the pool on different occasions.
The trial court granted the preliminary injunction, ordering the tenants and their landlord to install throw rugs throughout the unit and a sound-muffling device on the doors; to cease photographing Board Members; and to prevent their dog from urinating on the Common Area.  The trial court ruled in favor of the HOA because the tenants' noxious behavior unfairly oppressed the rest of the community, while the ordered corrective measures were minimally oppressive to the tenants.
The Court of Appeals upheld the trial court's decision.  Despite the fact that the HOA's nuisance provision did not mention dogs, the Court broadly interpreted the existing provision to encompass the exclusion of dogs from the Common Area for health and safety reasons.
Furthermore, the Court held that the nuisance provision bans acoustic nuisances that interfere with a neighbor's right to quiet enjoyment.  In this case, the nuisance claims were supported by credible witness testimony that the tenants' noise was excessive.
Lastly, the Court of Appeals disagreed with the tenants that their due process rights had been violated since the tenants were not permitted to challenge the violation notices at hearings.  The Court held that only Owners with vested property rights are Members of the HOA.  As such, only Members may participate in HOA meetings.
| | |
| --- | --- |
| | The Harbour Island case highlights the broad reach of nuisance provisions in CC&Rs and serves as a reminder that Owners, not tenants, have the right to attend and participate in HOA meetings.  |
-Blog post authored by TLG Attorney, Sarah A. Kyriakedes, Esq.