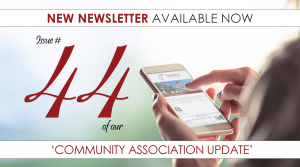 In case you missed it, Issue # 44 of our 'Community Association Update' newsletter is available now!
Topics covered in this issue include:
HOA Assessment Collection During the Pandemic
A Member in Our Community Tested Positive for COVID-19 – What Do We Do?
Dog Parks:  Best Practices for Limiting an HOA's Liability Exposure
Overzealous Board Members:  Understanding the Scope of the Board's Authority to Enforce the Governing Documents
There is no Such Thing as a Free Lunch – Or a Free Clubhouse:  Implementing Reasonable Limitations on Political Speech and Assembly Rights in California HOAs
A link to the newsletter is here.
Need to be added to our mailing list? Click here to sign up. Links to previous editions of our newsletter can be found here.