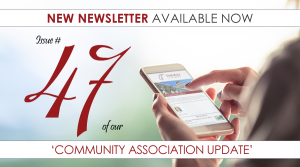 In case you missed it, Issue # 47 of our 'Community Association Update' newsletter is available now!
Topics covered in this issue include:
California Legislature Further Limits a HOA's Right to Restrict Rentals
Political Signs and the Limits Imposed on a HOA's Ability to Regulate Same
SB-908 Signed!  Debt Collection Licensing Act
Planning for the Unexpected:  Force Majeure
Insurance Coverage Denied & Bad Faith Claims
A link to the newsletter is here.
Need to be added to our mailing list? Click here to sign up. Links to previous editions of our newsletter can be found here.