*Asked & Answered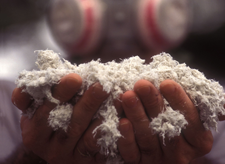 Asked – Our HOA Board of Directors has recently decided to undertake some deferred maintenance projects which require wall renovations, such as re-piping the condominium buildings. Must the Association have an asbestos survey conducted prior to commencing the work?
Answered – Yes. The South Coast Air Quality Management District Rule 1403 ("Rule 1403") requires a survey for the presence of Asbestos-Containing Materials ("ACM") to be conducted and documented prior to the commencement of any renovation. (See SCAQMD Rule 1403(a).) Moreover, Rule 1403 makes it clear that a survey is required regardless of when the structure was built, the size of the renovations, and whether the owner of the structure is aware of the building materials. (See Rule 1403(d)(1)(A).)
Asbestos is a hazardous air pollutant under Section 112 of the federal Clean Air Act. (6 Environmental Law Practice Guide § 46.09 (2019).) Rule 1403 governs work practice requirements for asbestos in all renovation and demolition activities. The purpose of this rule is to protect the health and safety of the public by limiting dangerous emissions from the removal and association disturbance of Asbestos-Containing Materials (ACM). (See SCAQMD Advisory Notice). Due to the serious implications for exposing individuals to ACM, the survey requirement is mandatory with very limited exceptions.
Rule 1403 requires that the survey must be conducted by a Cal/OSHA-certified inspector or, as permitted by Cal/OSHA, an employee of the facility who possesses an unexpired AHERA Building Inspector certificate from a Cal/OSHA approved course. (See Rule 1403(d)(1)(iv).)
Given the serious health risks and liability associated with exposing HOA Members to ACM, HOA Boards should include asbestos surveys within the project budget and/or ensure that the surveys are included in any vendor contract.
| | |
| --- | --- |
| | Your city or county may require you to apply for a permit to conduct asbestos removal, renovation, or demolition. Contact your HOA attorney to conduct an in-depth analysis of your locality's specific requirements. |
-Blog post authored by TLG Attorney, Corey L. Todd, Esq.