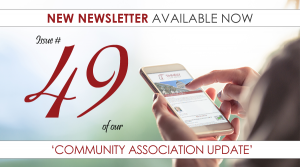 In case you missed it, Issue # 49 of our 'Community Association Update' newsletter is available now!
Topics covered in this issue include:
Re-Opening HOA Facilities on an Honor System
Addressing Neighbor-to-Neighbor Disputes
Property Damage Claim and General Liability Coverage/Denial
Request for Installation of Accessory Dwelling Units
The Importance of Well-Drafted Short-Term Rental Restrictions
A link to the newsletter is here.
Need to be added to our mailing list? Click here to sign up. Links to previous editions of our newsletter can be found here.