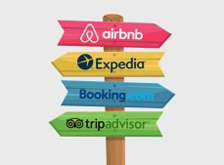 *Unpublished Opinion
Short term rentals ("STRs"), which are generally defined as rentals for periods of thirty days or less, are lucrative investments that have withstood the economic impact of the pandemic far better than traditional hotels due to the perception of them being a safer alternative. However, STRs in residential homeowners associations are known for burdening said HOAs with a revolving door of transient occupants on vacation who often do not observe the community's rules, disturb the quiet enjoyment of other residents, who place more wear and tear on community amenities, and who arguably detract from the residential character of the neighborhood. Homeowners associations may restrict such short term, transient use of property through express and explicit provisions contained in recorded Covenants, Conditions and Restrictions ("CC&Rs").
California case law has upheld HOAs' authority to restrict STRs. (See Watts v. Oak Shores Community Association (2015) 235 Cal. App. 4th 466.)  However, for such a restriction to be effective, the language in the CC&Rs must explicitly restrict STRs as demonstrated by a recent unpublished California Court of Appeals decision from the Fourth District, Lastavich v. Nob Hill Homeowners Association et al.(Case No. D075466) ("Nob Hill"), which held that the CC&Rs of a four-unit condominium HOA located in the City of Carlsbad did not operate to restrict STRs. The applicable language in the Nob Hill CC&Rs stated that each of the units were to "be used as a single family residence and for no other purpose or purposes." The Nob Hill CC&Rs notably did not expressly prohibit commercial or business use of the property nor did they expressly prohibit STRs or transient use of the property.
Plaintiff, an owner in Nob Hill, sued the HOA and two other owners who had been regularly renting their units for less than thirty days, to enjoin such STRs claiming that the applicable restrictive language prohibited commercial enterprises including STRs. The trial court entered judgment in favor of the HOA and defendant owners, finding that "short term vacation rentals are not a business and that their use do[es] not violate the CC&Rs." On appeal, the Fourth District affirmed the trial court's decision. The appellate court's decision was based on a "just and fair" interpretation of the CC&Rs conducted in favor of the unencumbered use of the property.  Key to this interpretation were the undisputed facts that the plain language of the CC&Rs allowed for leasing, did not expressly prohibit short term or vacation rentals, did not expressly prohibit business or commercial use of the property (nor did it define STRs as a business or commercial use of the property), that owners had been renting the property on a short term basis for many years out in the open and with Plaintiff's knowledge, and that the Declarant testified that she did not intend to prohibit or restrict STRs when she established the HOA.
Ultimately, the appellate court held that restrictions on the use of land cannot be "read into" CC&Rs by implication and determined that the CC&Rs did not expressly or implicitly prohibit or restrict the use of the units as STRs. The court noted that to restrict STRs at Nob Hill, the CC&Rs would only need a single sentence in the CC&Rs, when originally drafted in 1986 or as amended, to limit the rental of the Nob Hill units to a certain minimum number of days. The absence of such language presented a fatal defect in Plaintiff's case.
| | |
| --- | --- |
| | The key takeaway from Nob Hill for community associations is that California HOA's cannot rely merely on a single-family use restriction in their CC&Rs to operate as a restriction on STRs. STRs do not automatically qualify as a business or commercial use of the property absent language in the CC&Rs defining them as such. Without language specifically prohibiting rentals for thirty days or less, a court will not likely read such a restriction into the CC&Rs. Although the passage of AB 3182, effective January 1, 2021, makes rental restrictions generally unenforceable, short term rental restrictions of thirty days or less are excepted. (Civil Code 4741(c)).  Amending governing documents to comply with this new law by December 31, 2021 is required or HOA's are subject to fines. (Civ. Code §4741(f)&(g).) Associations are encouraged to contact their counsel, both to comply with this new law, but also to ensure that enforceable, well-drafted STR provisions are incorporated into their CC&Rs in the process of such compliance. |
-Blog post authored by TLG Attorney, Carrie N. Heieck, Esq.