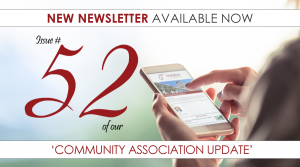 In case you missed it, Issue # 52 of our 'Community Association Update' newsletter is available now!
Topics covered in this issue include:
AB 1101 Signed! Welcome Clarity to HOA Financial Protection Requirements
AB 502 Signed! Board Elections by Acclamation
What to Do if There is HOA Slope Movement/Failure
Due Process Regarding an Association's Disciplinary Procedures
Does Our Association Have View Rights?
A link to the newsletter is here.
Need to be added to our mailing list? Click here to sign up. Links to previous editions of our newsletter can be found here.