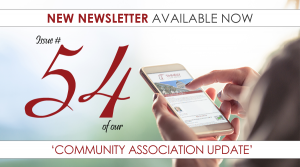 In case you missed it, Issue # 54 of our 'Community Association Update' newsletter is available now!
Topics covered in this issue include:
Unmasking Your HOA's Common Area Facilities
How to Handle Potential Conflicts of Interest
Association Management and the Attorney-Client Privilege
What is the Proper Procedure to Adjourn the Annual Meeting?
Can the Board Reconsider an Approved Motion?
Can Private Parties Restrict Parking on Public Streets?
A link to the newsletter is here.
Need to be added to our mailing list? Click here to sign up. Links to previous editions of our newsletter can be found here.