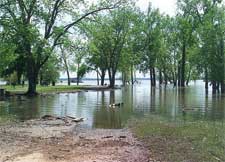 Property owners in a partially-built Northern California subdivision may be compensated by the State for flooding damage to their properties.
A Sacramento County Superior Court ruling in April held that the state violated the constitutionally property rights of the property owners by allowing the local lake to flood the surrounding landscape. The California Coastal Commission and the state Department of Fish and Game were managing the lake's water levels in such a way as to cause flooding to a significant portion of the property owners' land.
The court ruled that, as a result of the management plan, the state had effectively seized the homeowners land without compensation. The second phase of the trial will require a determination as to the type and amount of damage each property owner will receive from the state.
To read the full story, click here.
| | |
| --- | --- |
| | It is important for property owners to understand how their private property rights interact with the rights and privileges of state and local municipal bodies. |