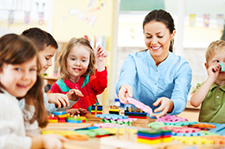 *New Legislation
Governor Newsome recently signed into law Senate Bill 234 ("SB 234"), also know as the "Keeping Kids Close to Home Act."  The new law will take effect on January 1, 2020.  SB 234 permits large daycare homes, which provide care for up to 14 children at one time, to operate within HOA communities regardless of contrary language in their CC&Rs.  The purpose of SB 234 is to increase the availability of childcare for families across the state by making it easier for daycare homes to operate in residential neighborhoods.
"It is the intent of the Legislature that family daycare homes for children should be situated in normal residential surroundings so as to give children the home environment that is conducive to healthy and safe development. It is the public policy of this state to provide children in a family daycare home the same home environment as provided in a traditional home setting."
The California legislature previously declared that small daycare homes (those providing care for up to 8 children) were immune from HOA restrictions, like those against commercial use. (See H&S Code, section 1597.40(c).)  Prior to SB 234, local governments could decide whether to classify large daycare homes like small daycare homes or to subject the large daycare operators to additional restrictions and requirements.
In effect, SB 234 voids CC&R provisions that prohibit Owners from utilizing their properties as large daycare homes, so long as those Owners follow the necessary state licensing requirements and provide care for no more than 14 children.  The bill also informs those wishing to open daycare homes that remedies are available if the local governments or HOAs discriminate against them.
HOAs across the state should be aware that Owners have the right to open large daycare homes within the community, regardless of restrictions against commercial use or for single family use.  However, the new law does not allow Owners to violate other CC&R restrictions, like those prohibiting noise nuisances.
| | |
| --- | --- |
| | HOAs should always consult with their legal counsel when responding to Owners' requests to open daycare homes within the communities in order to ensure compliance with the new state law and their CC&Rs. |
-Blog post authored by TLG Attorney, Sarah A. Kyriakedes, Esq.