A HOA may not be responsible for the entire cost to repair damage if the owner was slow to disclose the situation to the HOA.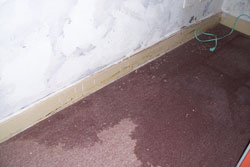 The heavy rains that hit Southern California this winter have unfortunately resulted in many instances of leaks and water intrusion. If a Homeowners Association ("HOA") is obligated under its Governing Documents to repair/maintain the exterior walls of units, it is likely also obligated to repair damage to the interior of units caused by water leaking through the exterior walls.
However, if an owner is unreasonably slow to notify the HOA of a leak, the HOA may not be responsible for the entire cost to repair the damage. HOA Governing Documents typically include provisions that hold owners accountable for damage caused by their willful or negligent conduct. Additionally, California caselaw requires that owners use "ordinary care and diligence" to prevent an unwarranted piling up of damages. If the owner failed to disclose the leak to the HOA in a timely manner, the HOA may hold the owner responsible for the portion of the repair cost attributable to the owner's unreasonable delay in disclosure.
| | |
| --- | --- |
| | A HOA's Governing Documents outline the HOA's obligations to repair/maintain various areas within the community. However, situations often arise where the scope of the HOA's obligations may not be clearly defined. |