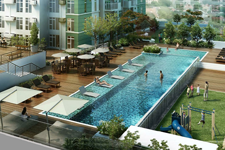 Community associations across the state are wrestling with the idea of opening common area facilities after closure due to COVID-19.  Residents are becoming increasingly restless under the state's stay-at-home order; naturally, they desire to use their community association's recreational amenities ("Amenities").
"When can we use the pool?  When will the gym be opened?"  Boards must balance resident pressures with their fiduciary obligation to do what's best for their communities.
The purpose of this blog post is to identify a two-part test that can help boards and community managers evaluate when to re-open the Amenities and, if so, under what circumstances: (1) Can the Amenities be opened? (2) Should the Amenities be opened?  The information provided herein is current as of Tuesday, May 12, 2020.
Can the Amenities be opened?
Community Associations Institute (CAI), a worldwide industry trade group for community associations, recommends that community associations comply with governmental regulations regarding COVID-19.  Therefore, the first question to be asked is whether it is legally permissible to re-open Amenities in view of the government's current stay-at-home orders.  The answer to that question depends upon state and local declarations regarding recreational use.
Federal and state authorities do not appear to have provided guidance with respect to the closure and re-opening of HOA facilities in view of COVID-19.  Understanding how the government is managing similar recreational facilities in the public arena (e.g. pools; parks; gyms; and community centers, etc.) can offer a blueprint for California HOAs.
California Governor Newsom ("Newsom") is opening California through a four (4) stage Resilience Roadmap.  As of the date of this correspondence (May 12, 2020), it appears that the state is slowly moving into Stage 2 of that Roadmap (Lower-risk workplaces).  According to the state's web site (covid19.ca.gov/roadmap/), gyms and fitness studios, community centers, public pools, playgrounds and picnic areas are categorized as "Higher-risk workplaces" which are NOT in Stage 1 or 2.  It seems that the state has not yet adopted guidelines with respect to the safe operation of those areas.
Newsom states that county officials and localities can decide to move more quickly (or slowly) into Stage 2 of reopening than the statewide baseline.  It is possible that county and local governments could potentially open gyms, pools and community facilities after adopting their own safety guidelines.  Under that circumstance, it would be safer for community associations to open their similar private facilities because operating procedures can mirror available public health standards.  If government orders are not clear or are silent with respect to the extent of lock down orders in your region, then Amenity opening could be premature – and to some degree risky.   You can imagine the first question at a deposition in a personal injury lawsuit against the association: "Why did the association open the pool when your county was still under lockdown?"
Should the Amenities be opened?
Presuming Amenities can be opened because of the absence of applicable stay-at-home orders, the next question becomes: Is opening the Amenities the right decision for your community at this time?  Are we able to comply with governmental regulations?  If so, how can we keep our facilities safe?  Those questions should be asked before Amenities are opened.
A primary consideration should be whether the association's liability policies cover COVID-19 liability claims (i.e. a resident alleges that he or she became infected because of the Association's improper disinfection efforts).  Industry insurance professionals have noted that association liability insurance policies may include a coverage exclusion for bacteria and viruses, such as COVID-19.  Under that circumstance, the association could be directly liable for personal injuries because the risk of such damage has not shifted to the insurance carrier.  It is recommended that boards discuss application of that policy exclusion with the association's insurance professional.
Before re-opening the Amenities, boards should develop a risk mitigation safety plan ("Safety Plan"), in accordance with CDC guidance and state/local regulations.  That plan can be previewed with the association's legal counsel (for purposes of legal compliance) and management (for purposes of managing logistics and enforcement).  Industry experts believe that additional cleaning and enforcement efforts could create unforeseen expenses – up to as much as 25% of an existing Association budget.  Management can be an excellent source to identify cost-savings measures, such as limiting resident use of Amenities and their hours of operation.
Discussing how to manage resident communication is critical as boards decide whether to re-open Amenities.  Regular updates in some form are desirable for purposes of education and transparency.  Use of a waiver agreement should be considered for purposes of acquiring their appreciation of the risk associated with Amenity use.  It is important for residents to know that the association cannot guarantee that no one will get sick or that the premises are COVID-19 free.  In that regard, disclaimer signs should be posted throughout the Amenities which state something like, "The Association is not ensuring that the [insert name of Amenity] is free of COVID 19 contaminants."
Is Amenity re-opening the right decision for your community at this time?  Factors which may be relevant for a neighboring community may not be relevant to your association, even though both developments exist within the same city.  Compared to your neighbor, your community may have more or less Amenities, may or may not have the same capacity to comply with governmental safety mandates, and will likely have a different budget for purposes of maintaining a safe environment and enforcing the Safety Plan.
| | |
| --- | --- |
| | The understandable desire to re-open common area facilities should be balanced by prudent business practices.  Understanding risk and the government's safety guidelines are essential for purposes of making informed decisions.  Fortunately, there are many sources of information in that regard.  Boards of Directors and management professionals are strongly encouraged to consult with the association's vendors and consultants during the decision-making process. |
-Blog post authored by TLG Attorney, Kumar S. Raja, Esq.