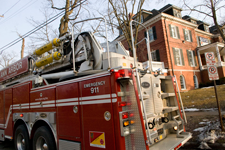 Homeowners in California should be expecting a new bill in their mailbox for the calendar year 2011 and onward. The California legislature has passed a controversial new Fire Prevention Fee which will aim to defray the State's costs for fire prevention services. The new fee–argued by some to be a tax–will affect homes that are considered to be "habitable structures within the State Responsibility Area (SRA)" and within "the area of the state where the State of California is financially responsible for the prevention and suppression of wildfires." Homeowners can check the Fire Prevention Fee website to determine if their home is located within the SRA area.
The new assessment fee for affected structures will be $150.00 per "habitable structure," defined as "a building that can be occupied for residential use." For affected multi-unit condominium buildings, the new regulations assess a fee of $150.00 for the first "dwelling unit" and $25.00 for each additional dwelling unit located within the building.
| | |
| --- | --- |
| | Condominium Associations located within the SRA that consist of multiple units may feel the biggest effect due to the new fees levied on each "dwelling unit." Such Associations will need to determine how best to structure payment (e.g., paid by the Association as part of its annual budget or paid by each owner individually). |
The content of this post was adapted from information provided by CAI's Legislative Action Committee Blog. To read the original article, click here.