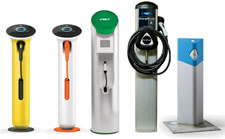 In furtherance of California's energy conservation goals, Governor Brown has signed Senate Bill 209 ("SB209") which prohibits Homeowners Associations ("HOAs") from unreasonably restricting the installation of electric vehicle ("EV") charging staitons in their communities. SB209 will take effect January 1, 2012.
CAI's California Legislative Action Committee ("CAI-CLAC") worked with the author of SB209 to ensure that potential issues regarding an HOA's responsibility and control over these stations would be adequately addressed.
The work of CAI-CLAC was reflected in Governor Brown's signing message to the California Senate: "The author has assured me that she will pursue legislation that clearly protects the right of [HOAs] to establish reasonable rules for any use of common areas for charging stations."
The aesthetic concerns over EV charging stations are easy to understand. However, there may be an incentive for a HOA to voluntarily install the stations for use by its members/tenants:
a new revenue stream. Practically every major Southern California utility company offers discounted rates on electricity used to charge EVs. However, according to a recent decision by the California Public Utilities Commission ("CPUC"), "condominium associations that provide electric vehicle charging on the premises as a service to condominium owners…that have not dedicated their equipment for public use" are not regulated as public utilities and therefore not subject to various rate controls when deciding what price to charge for the use of the stations.Thus, a HOA could install the stations for use by its members/tenants and ultimately profit from them.