*Asked & Answered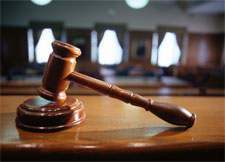 Asked – How many notices do you need to give a unit owner about a rule violation before they are called to a hearing and fined?
Answered – Associations generally must provide their members with "due process" before they are able to impose disciplinary measures, such as fines, for rule violations. This due process requirement is meant to ensure that the Association's enforcement procedures are both fair and reasonable. Two central elements of due process are (1) providing the accused notice of her alleged violation and (2) providing the accused a reasonable opportunity to be heard and to defend herself. Applebaum v. Board of Directors (1980). Notices and hearings for Association rule violations are in furtherance of the due process requirement.
Before conducting a hearing to determine whether a fine should be imposed, the Board must "notify the member in writing, by either personal delivery or first-class mail, at least 10 days prior to the [hearing]." Cal. Civ. Code Sec. 1363(h). Assuming that your Association's governing documents do not contain a more stringent notice requirement or that your Association does not have an enforcement policy which states otherwise, this is the only violation notice required before a member may be called to a hearing and fined. This notice, however, must contain all of the information required by Civil Code Section 1363(h) (the date, time, and place of the hearing, the nature of the alleged violation, etc.). Please note that Associations are also required to annually provide their members with notice of the Association's enforcement procedures, including its schedule of fines. Cal. Civ. Code Sec. 1363(g).
| | |
| --- | --- |
| | Though the Civil Code only requires that one notice of violation be given to a member before they may be called to a hearing and fined, it is a better practice for an Association to provide its members with more advanced notice and a reasonable time period (i.e., 30 days) to voluntarily correct the violation before being called to a hearing. Such a practice helps to (1) secure the cooperation of members and (2) demonstrate that the Association is acting both fairly and reasonably in enforcing its rules and restrictions. |
To submit questions to Tinnelly Law Group, click here.