*Asked & Answered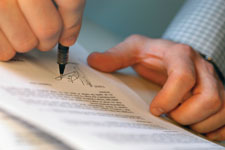 Asked – Upon being elected to serve on our Association's Board of Directors, our Management company gave me "Ethics Rules" to sign. These rules are not a part of our CC&Rs or our Bylaws. Am I required to sign the rules in order to serve on the Board?
Answered – Generally no. Homeowners Association ("HOA") governing documents typically include a set of Bylaws that govern the corporate structure of the HOA and the functions and duties of its Board of Directors. It is not uncommon for Bylaws to set certain eligibility requirements for HOA members to serve as Directors. Such eligibility requirements can include, for example, ownership of property within the HOA, being current on one's monthly assessments and not being in violation of any of the HOA's rules or restrictions. We encourage our clients to adopt these types of eligibility requirements to help ensure those members elected to serve on the Board set a good example for the rest of the membership.
| | |
| --- | --- |
| | Requesting that Directors subscribe to certain "Ethics Rules" or "Codes of Conduct" is always an option available to a HOA's Board of Directors. Such rules may help to provide guidance to new Directors who wish to better understand the scope of their responsibilities. However, in order to make subscribing to such rules a requirement to serving on the Board, it must be contained in the HOA's Bylaws or elsewhere in the HOA's governing documents. Every situation is different, however, and a definitive answer would require examining your HOA's governing documents and the procedures used in adopting the Ethics Rules at issue. |
To submit questions to Tinnelly Law Group, click here.