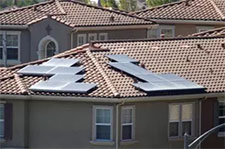 The California Solar Rights Act ("Act"), found at Civil Code §§ 714 and 714.1, provides certain protections for homeowners seeking to install Solar Energy Systems (i.e., solar panels) on their properties ("Systems"). The intent of the Act was to prevent associations from broadly banning Systems for aesthetic reasons—whether through an explicit ban, or through onerous architectural restrictions that greatly increase System costs or reduce performance. To that end, the Act rendered void and unenforceable any provision of an association's governing documents that "effectively prohibits or restricts the installation or use of a solar energy system." Civ. Code § 714(b). The Act does permit associations to place "reasonable restrictions" on the installation or use of Systems, as defined in Civil Code § 714(b).  However, in reality, those "reasonable restrictions" are extremely limited in scope.  To illustrate, any restriction which increases the cost of a System by more than $1,000, or which decreases its performance by more than ten percent (10%), from what was originally proposed by the homeowner is not a "reasonable" restriction and therefore unenforceable. Civ. Code § 714(d)(1)(B).
For planned developments with detached homes, the application of the Act is relatively straightforward because it applied to Systems that were installed on a homeowner's "separate interest."  However, what was less clear was the extent to which the Act applied to homeowners within condominium developments.  In a condominium development, a System would not be installed within or upon a homeowner's separate interest.  Rather, the System would be installed on common area components such as the roofs, garages or carports.
This issue was at the heart of AB 634 which was signed into law in 2017. AB 634 amends Civil Code § 714.1 and adds Civil Code § 4746. Under the new law, which became effective January 1, 2018, associations are prohibited from establishing policies prohibiting the installation or use of Systems installed on the roof of the building in which the owner resides, or a garage or carport adjacent to the building that has been assigned to the owner for exclusive use. It also adds an exemption to the membership approval requirements associated with granting exclusive use of common area to allow for such grants for System installations. Civ. Code § 714.1(b)(1)-(2).  In simple terms, condominium associations are no longer able to broadly prohibit Systems from being installed on common area roofs, garages or carports.