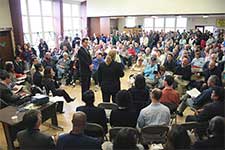 New Civil Code 4515 will be added to the Davis-Stirling Act to ensure that homeowners association residents may exercise their rights of peaceful assembly and political speech.
HOAs are playing an increasing role in the lives of California's residents as compared to the roles traditionally played by cities and counties. HOAs are growing in number, size and sophistication. As a result, a HOA's actions and governance structure often have more immediate effects on the issues homeowners feel "closest to home," such as property values and community services. This is why California law will at times hold HOAs—which are private corporations—to the standards of "quasi-governmental entities."
An example of this was seen several years ago when legislation was enacted to grant every HOA member the right to use common area meeting spaces for purposes related to a HOA's election. The intent was to promote constitutional principles of freedom of speech and assembly; to allow HOA members to meet for purposes related to an ongoing HOA campaign (i.e., a HOA board election), and to do so without any unreasonable impediment imposed on them by their HOA.
SB 407 (Wieckowski) is a newly signed bill that takes this idea much further. It was introduced in response to what California's legislators felt to be a continuing abuse of power by HOAs in using non-solicitation rules to prohibit non-commercial free and political speech:
"Blanket prohibitions on commercial solicitation are often so broadly written that they could be interpreted to prohibit non-commercial free and political speech."
"Significant anecdotal evidence demonstrates that HOAs have extended the restrictions of door-to-door solicitation to political speech."
"Overly broad rules and policies discourage the civic participation of HOA members and criminalize free political expression."