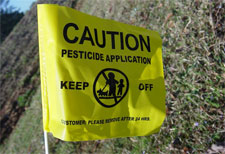 *New Library Article
California Code of Regulations (CCR) Sections 6000 through 6619 regulate the use of pesticides and pest control operations. Much of these Sections do not apply to residential homeowners associations ("HOAs"). However, there is one Section that contains various notification requirements that a HOA must satisfy when pesticides are applied in its community: CCR Section 6618 – "Notice of Applications."
In sum, CCR Section 6618 requires certain notifications to be provided to the "operator" of the property where pesticides are being applied, as well as to persons whom the operator has reason to believe may enter the property during and after the application period. Unfortunately, CCR Section 6618 is vague and somewhat confusing to interpret, especially due to its references to "fieldworkers," "agricultural plant commodities," and "commercial and research production." As a result, a number of our HOA clients have requested guidance on the extent to which they must comply with CCR Section 6618, as well as the steps needed to do so.
This blog post addresses this issue and provides some generalized recommendations for HOAs and their management. It also includes information we obtained from state and local entities that enforce these regulations: the California Department of Pesticide Regulation ("DPR") and the Orange County Agricultural Commissioner's Office ("OCAC"). As discussed below, HOA vendors that perform pest control services have a major role in providing HOAs with the pesticide label and application information that must be disclosed to the HOA's members pursuant to CCR Section 6618…
Our attorneys have also published this information in an article that is available for download from our Web site's library.